Pans People NUDE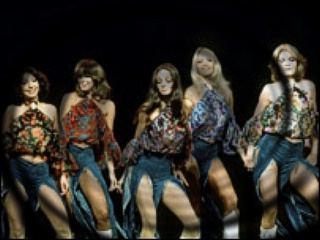 Pan's People were a British TV dance troupe, who are best associated with the BBC TV music chart show Top of the Pops.
In an era before pop videos, they danced to songs whose original artists were not available to perform them live. They were not the first dance troupe to appear regularly on TOTP - they were preceded by The Go-Jo's in the programme's early days, before Pan's People replaced them in May 1968. They did not start off with weekly appearances, but they had become an almost-weekly feature of the programme by early 1970.
The original Pan's People line-up consisted of:
Louise Clarke
Felicity "Flick" Colby
Barbara "Babs" Lord
Ruth Pearson
Andrea "Andi" Rutherford
Patricia "Dee Dee" Wilde
Flick gradually stood down from her dancing duties in Pan's People towards the end of 1971 to concentrate full-time on choreographing the group's routines.
At the end of 1972, Andi Rutherford left Pan's People to raise a family, and was replaced by Cherry Gillespie. Cherry was selected at open auditions, and made her TOTP debut on 28 December 1972. She appeared after being "unwrapped" as a Christmas present by the other members of Pan's People, before joining them for a routine to Nilsson's "Without You".
During 1974, Louise Clarke also decided to leave Pan's People to start a family. Her replacement was Susan "Sue" Menhenick, again chosen through an open audition. It is currently uncertain on which date Sue made her TOTP debut as a Pan's People member.
A final personnel change within the troupe occurred during 1975, when Babs Lord and Dee Dee Wilde also left the group. It is believed that both Babs and Dee Dee left Pan's People at the same time. Their replacements were Mary Copse and Lee Ward. Mary and Lee made their debuts as Pan's Peoplettes on 5 May 1975. In a 1976 edition of Top Of The Pops, Blue Peter presenter Lesley Judd (a former member of dance troupe The Young Generation) became a sixth Pan's Peoplette for a one-of routine. The backstage rehearsals were then shown on Blue Peter a few weeks later.