Patricia Hodge NUDE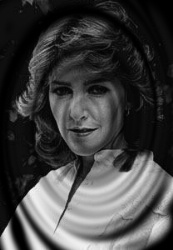 Patricia Ann Hodge (born on 29 September 1946 in Cleethorpes, Lincolnshire) is an English actress.
The daughter of the Royal Hotel owner/manager Eric and his wife Marion (née Phillips),[1] Hodge attended Wintringham Girls' Grammar School on Weelsby Avenue in Grimsby and then St. Helen's School, Northwood, Middlesex; before attending Maria Grey College (became West London Institute of Higher Education in 1976 then the Twickenham campus of Brunel University from 1995-2005), Twickenham to train as a teacher. She undertook teaching drama in a primary school for a year, whilst also applying to London Academy of Music and Dramatic Art,[2]. She started at LAMDA when she was 22, being awarded on graduation the Eveline Evans Award for Best Actress.[3]
After graduation, she concentrated on theatre work and 18 months later worked with Bob Fosse on Pippin. However, she found when applying for television work she had become classed as a theatre actress. Having made the break through in the role of Phyllida (Trant) Erskine-Brown in Rumpole Of The Bailey, she found when trying to make he occasional return to theatre work that she had been classed as a television actress. Finding the need to have a flexible career to care for her young children, Hodge made the decision to focus her career on the theatre, and hence is mainly seen on television in focus parts and singular roles in between chosen different theatre roles.
She has appeared in roles as diverse as The Naked Civil Servant opposite John Hurt, as Margaret Thatcher in The Falklands Play, and in 2007 as Betty, the wife of tycoon Robert Maxwell, in the BBC TV drama Maxwell opposite David Suchet.[4]. She achieved fame at the age of 36 in the 1983 film, Betrayal (based on Harold Pinter's play Betrayal, where her part was based on Joan Bakewell).
She was nominated for a BAFTA for her role in Hotel Du Lac in 1987, and was awarded the Laurence Olivier Theatre Award in 2000 for Best Supporting Actress for her performance in the production of Money at the Royal National Theatre.[5] Hodge is an Honorary Graduate (DLitt) of Brunel University and one of the founder members of the Brunel Club.[6]. She is joint President of Grimsby's Caxton Theatre.