Phoebe Cates NUDE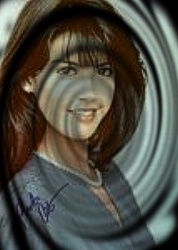 Phoebe Cates (born July 16, 1963) is an American film actress known for her roles in several teen films, most notably Fast Times at Ridgemont High and Gremlins.
Cates was born Phoebe Belle Katz in New York City, New York, the daughter of Lily and director and producer Joseph Cates (originally "Joseph Katz").[1] Her uncle is producer/director Gilbert Cates and her stepfather was Marshall Naify, a horse breeder.[2] Cates' maternal grandfather was of Chinese Filipino descent, and her father as well as her maternal grandmother were of Russian Jewish origin. Cates attended the Professional Children's School and the Juilliard School.
Cates achieved icon status in 1982 for her performance in Fast Times at Ridgemont High, particularly the topless scene in which she sheds her bikini top in a slow-motion fantasy sequence. That year, in the romance film Paradise, and in contrast to the coyness of Brooke Shields in the similarly themed The Blue Lagoon, Cates appeared in several nude scenes. In a People magazine article, Cates said she had expressed reservations about this situation to her father, who advised her to play it in whatever way she felt was artistically and financially honest. She is quoted as saying "I was only 17 when I did my nude scenes in Paradise. They were serious and more difficult because they were not easily justified. But the topless scene in Fast Times at Ridgemont High was funny, which made it easy."[4]
Her later film roles were more modest and largely oriented toward younger audiences, who remember her best as the female lead in the two Gremlins films, and the 1991 film Drop Dead Fred. Her face made the covers of teen magazines such as Seventeen, Tiger Beat, Teen Beat and others. In 1985, Cates appeared Off-Broadway in Rich Relations written by David Henry Hwang at the Second Stage Theatre. In 1991, she was slated to be in Father of the Bride, but dropped out due to pregnancy. In 1994, she starred along with her husband Kevin Kline in Princess Caraboo. In 1996, she narrated the award-winning documentary short, The Flame, a film about the nonprofit world hunger organization Heifer International.